I'm back!! I haven't blogged in a really long time and I dont really have a reason. I just wasn't feeling "bloggy"! I will hopefully have another post today about my wonderful weekend but for now, here is my Top 2 Tuesday!!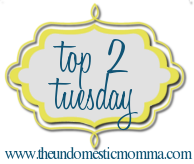 Top 2 Random Facts About Me:
1) I grew up on a farm. We started out with all kinds of chickens, ducks, geese, peacocks, really any waterfowl you can think of, we even had a donkey, sheep/lambs and of course my dogs. I actually thought it was fun growing up having this in my backyard but then my Dad went crazy and bought these things....
So yes, my Dad went overboard and bought lots of Ostriches and Emus!! We had a huge operation with the incubation rooms and all the different areas for the babies and young birds. I do have to admit that I did like the baby ostriches...they were kind of cute..
My Dad only has a few Emus left....thank goodness he got out of that business...of course it was AFTER my sister and I left home!
2) I complain about my hubby's hobby some because it can be very expensive, but I do enjoy it. He used to have an old Suburban that he fixed up for rock-crawling and mud bogging. Yes I married a country guy! I cant participate in those activities that much because I get bored, but every once in a while, I really enjoy it. Here is his old Suburban, it is now at the scrap yard but there are lots of good memories of that vehicle.
This is what it sorta looked like when he bought it. I think all he changed at this time was tires and a lift.


Pretty beat up by now...


This was one of its last outings....no doors! (I told Wes that I had to have doors!!)
Seen better days for sure....dont think a vehicle is supposed to be that bent!


This is just an example of the things he would do. (I always watched outside of the vehicle on obstacles like these!!)
Since Wes loved his Burban so much....look at his groom's cake :)
I love my country boy :)